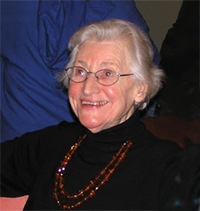 JLOS Tribute to our Founder
It was with much sadness that we learnt of the death on 10th April 2019 of Margaret Bannon, the founder, seventy years ago, of our Society and subsequently Honorary President. She was 92. It followed a period in a care home in Navan, County Meath, Republic of Ireland.
Margaret, with skills in singing, acting and stage-craft having recently graduated from RADA., founded the Society in 1948 at the age of 22.
She had attended a local mediocre production of a G & S opera and considered the operas were worthy of the best possible production, fully staged, full orchestra. So in autumn of that year she advertised her proposals, received sufficient response and rehearsals started for her first production − Iolanthe, which was put on in March 1949. She named the society Julian Light Operatic Society after Julian Avenue in Acton W3 where she lived with her parents, David and Mary Whiteaker, who also took an active part in the Society and fulfilled many of the administrative roles required in running a musical organisation.
As well as directing, Margaret was an accomplished soprano and sang all the leading soprano roles in the Gilbert & Sullivan repertoire, such as, Gianetta (Gondoliers), Mabel (Pirates), Elsie (Yeomen), Rose Maybud (Ruddigore), Yum-Yum (Mikado), Josephine (Pinafore) and eventually, when the Society tackled Princess Ida in 1961, she took the title role. These were put on at Acton Town Hall.
In 1952 a talented young tenor Jack Bannon joined the society taking the principal tenor roles and by 1956 Margaret and Jack were married. Jack did a stint professionally with the D'Oyly Carte Opera Company, but he considered a permanent career as a singer too risky (went into insurance broking instead) and thus stayed in the amateur world, to the enormous benefit of JLOS. Jack and Margaret formed a duo singing at concerts, functions or similar charitable occasions.
The direction of Gilbert & Sullivan operas was considerably constrained by copyright until 1961, but after that the productions became more diversified under Margaret's direction, and in 1966 the Society put on its first non-G & S with Johann Strauss's The Gypsy Baron, with Margaret in the lead soprano role of Saffi, a Gypsy Princess. Blossom Time − a show based on Schubert's music − followed in 1968.
The Silver Jubilee anniversary in 1974 was celebrated with a production of The Gondoliers, which Margaret directed and sang in. The Whiteaker family had been running the society since inception and now felt the time had come to step down and Margaret retired as director. Subsequent productions took place at Greenford Hall, and since 2002 at the Questors Theatre in Ealing.
That the society has continued to this day is testament to the solid foundations laid by Margaret's involvement. In 1983 and 1984 she came back to direct Patience and The Gondoliers to help the Society out of a problem.
In mid-1980's she and Jack moved to Navan outside Dublin to retire. There they bought a bungalow which they aptly named Julian Cottage, and became well known in the local community for their singing exploits. Although living in Ireland, Margaret continued to follow the Society with keen interest, and in 1999 returned with Jack to sing in the Society's 50th Anniversary spring concert of that year.
In 2008 she came over for the Society's 60th Anniversary party at the Questors Theatre (photo below).
Following past Presidents of the Society such as eminent surgeon Arthur Dickson Wright, and international opera star Victoria Elliott, Margaret was elected Hon President of the Society in 1986. Her husband Jack predeceased her in 2007.